Any little girl who has grown up where every school holiday means canvas and poles, and every weekend trip in the car results in hearing your parents say the inevitable "Did you pack the torches?" and "Did you remember the stove this time" will understand that camping really is suitable for everyone!
But with the torchlight firmly shining on women's safety right now, we want to share a few things in relation to one of the best pastimes in the world and how it can be safe for lone females to indulge in camping, alone and safely.
Is It Safe to Camp Alone as a Woman?
In most cases, it is entirely safe for women to camp alone safely. 
However, there are certain situations where this might not be the case, which has no bearing on women's abilities when it comes to the physical side of camping.
Here, we are more talking about the location in which you choose to camp and your immediate surroundings when choosing that location.
Here are some safety elements to be mindful of when choosing your camping location:
Is The Location Well Lit?
In a world where the best thing to be safe is to be visible, it might be worth noting if the location you and your canvas are heading to is well lit.
This would provoke a feeling of safety, as well as being able to be seen by others if any danger was to occur.
Note where the lights are around you, make sure you have enough batteries for torches and, if you are taking a car, make sure to leave it unlocked so you can easily access turning the lights on if you are going to a really dark location.
Is The Campsite Easily Accessible?
You have to remember the "What if's" in every situation, and one of those when it comes to safety when camping alone is "What if something happened, can anyone get to me easily" Or "Can I get out easily."
You should ask yourself both of these questions when the time comes to choose your location. Of course, we don't want to spoil any ideas you may have around extreme camping, such as deep in the woods or on a cliff edge (which is a thing!), but we do want to make sure that if there is an emergency, someone can get to you easily to help, or you can get out easily if you need to flee.
Be sure to note the way in and the way out of where you are.
Ensure that the access and egress to the place you are sited are not obstructed by overgrowth, other campers, or their vehicles.
Ensure that if there are any security features, such as locking gates, you know the times of operation and the place to go if you need assistance with access.
Does The Campsite Have Security?
Most designated campsites these days have security in the form of cameras and security guards doing specific rounds to make sure that everyone is safe.
As a lone female, it is worth going to meet the security team on arrival to let them know you are camping as a solo female so they can make sure you have a location that makes you feel safe. 
You may also ask the security team what times they do their rounds. If it's very late at night or early in the dark mornings and you see torches shining around, it may spook you a bit! But if it correlates with the times that security does their rounds, it may make you feel more at ease, knowing there is a high chance it could be them!
If you choose to head to a place to camp that is remote with no other signs of life, the best thing to do here is to make sure your mobile phone is fully charged and turn your location ON! Just in case!
Aim for a camping place with a mobile phone signal, and use a "Check-In" buddy, such as a friend or family member, who you can check in with at designated times throughout your stay so that people know you are safe and ok.
Do You Have A Way To Alert?
There are many ways you can attract attention if there is an occasion that makes you feel unsafe or under threat.
Make sure that you have something that makes an unusual or alarming noise that could be a physical thing like a claxon, a rape alarm, or an air horn (sounds silly, but people will hear it if it goes off!) or a noise that you can access directly from your phone.
If you have an unusual noise and someone hears it, they're going to take notice and see what is happening and where it is coming from.
If, however, you are camping somewhere open and remote, such as a beach or a big open field (we don't recommend this in the dark depths of a forest!), you could also have a flare that you can set off to signal distress.
Check your Surroundings!
No matter where you decide to camp, and there are some unusual places, make sure to note your surroundings.
You can conduct a risk assessment on so many things to make your campout an incredibly safe one.
Be sure to note things like:
What kind of people are nearby? Are they friendly?
Is it a quiet or noisy location? If I shout for help, will anyone be able to hear me?
Can others see me clearly?
Are the fastenings on my tent secure from the inside?
Are there any dark areas around me that need to be avoided?
Where are the nearest bathroom facilities? And can I get there in the dark safely?
Am I camping under anything that could potentially fall?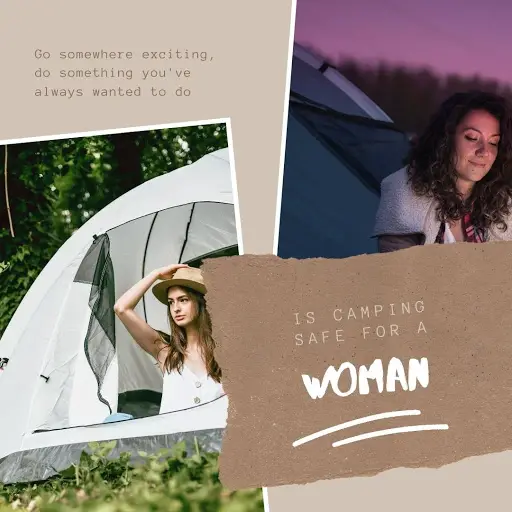 Don't let being a woman stop you from camping.
With all of these considerations to take note of, it is easy to see that camping safely as a lone female is entirely achievable, as long as you have those added elements to make you feel the safety in your situation too.
Feeling safe is one of the biggest things to chive before you go camping alone!
Being well prepared is always the best way forward with camping, especially alone, as you will be the only person you rely on to get it right. And you absolutely can!
Make sure you have everything you need to cover all eventualities, and you will have a great time!