Whether your old camping gears have worn out or you are new camping there are hundreds if not thousands of sellers who have specialized in selling outdoor gears. I have researched and listed the ones that I have had a great experience buying products from
We all know camping gears are not cheap! but that is not our problem, our problem is spending a bunch of money and not getting the right quality we expected, that actually hurts!
So, What you want is to get the highest quality at the lowest price and that is not easy.
#1. REI
REI (Recreational Equipment, Inc.) is probably the biggest seller in the outdoor niche, with high-quality products REI have won people's hearts, not only that but they have a team of camping experts who write helpful articles on their website and their social media like their Facebook page too which made them famous.
They have a high reputation amongst their customers and the reason is once you buy a gear it is for a lifetime. You can use their products for years without any problem, some say if you don't drive a truck over their sleeping bag nothing won't happen to it.
And so I have to check it for myself, that is why I have bought a down sleeping bag around three years ago for around $300 and I have found it to be amazing and super durable, I have machine washed it for 2 times but it still looks like it is out of its package and after that I have been a big-time customer of REI I have bought many things from them.
As you might have guessed, they sell their products at an expensive price. personally, I think some of their gears are overpriced, which is a bummer if you are broke.
As a beginner camper, you might find it hard to get all your gear from REI but if you have been camping for some time it won't be that hard because you do have some gear to start with in the first place.
REI has international shipping, unlike most other online retailers they will ship almost every item you want to any place you want whether it is in Africa or Asia and sometimes they might not even charge you for shipping.
U.S. shipping rates of REI– when you buy your gear from REI they will ship it for free for the most part, but if you want your gear fast you can get two-day shipping or one-day express shipping and you might pay anything from $22 to $33.
International shipping rates of rei– For people out of the United States you can get free shipping for orders above $150 and for anything less than that they will charge you $20.
Used items have their own category on REI, you can find anything with a cheaper price on the used category. Most of the used gear are items that are shipped back after a month of use or so, and so you can say they are almost new, while their price is almost half of the new ones.
| Pros | cons |
| --- | --- |
| Good return policy | Up to 7 days shipping |
| Nice help center | Pricey |
| Great quality products | – |
If it wasn't for their price I would have given rei 10 out of 10.
#2. Cascade Designs
Cascade designs is one of the biggest online retailers with a big collection of outdoor gears. The company was founded in 1968 and it has since been growing at a fast pace. Cascade Designs owns many subsidiaries brands under it, each one specializing in something. Almost everything that you might need for camping you can find.
Cascade's shipping is limited to addresses in the US and Canada. If you are located in any other place you would have to look at other places to buy your gear. But for US and Canadian citizens I would say you go for it, you will get free standard shipping if you shop anything more than a total of 50$.
| Pros | Cons |
| --- | --- |
| Good quality products | No international shipping |
| Big collection | |
| Nice customer support | |
I would give Cascade Designs 8 out of 10.
#3. AMAZON
We all know Amazon, we buy stuff from it and some people become sellers. Is it a nice place to buy camping gear? yes! 100% it is. Amazon is not a camping brand like REI or MARMOT but that doesn't mean you can't find both REI and Marmots gear on Amazon.
The best thing about Amazon is the genuine customer reviews you get to see, plus we are getting used to buying from Amazon which makes it easier for us to order with full trust, the free shipping if you are a prime member all that is Amazon amazingness.
Amazon is not the best place to buy high-end gear because most items sold on Amazon are from third-party sellers, and most third-party manufacturers don't put their full package on amazon that is why it is hard to find a good size fit of certain products sometimes.
Is the price of the same product cheaper or more expensive on amazon? I hear this question a lot and the answer can be both, sometimes Amazon sells the same product for less price than the manufacturer and sometimes vice versa and what you have to do is look at the product both on Amazon the original seller's website then decide for yourself.
To get the best deals on Amazon is not to use the Amazon search bar I know that sounds weird but I am not the biggest fan of their search engine, Instead, use your keyword and search it on google+Amazon that is way more effective and you can get the exact thing you want.
The second thing to find the best deal is checking customer reviews to check whether the gear you are buying is legit or not.
| Pros | Cons |
| --- | --- |
| Cheaper options | Not enough choice |
| Accurate information | Not for high-end products |
| Good shipping | – |
I would give Amazon 8 out of 10.
#4. ALIBABA
Alibaba is probably the best online retailer when it comes to price, Alibaba is an online store on which you can find any camping gear from sleeping bags, tents to boats and water filters not only camping gear but anything at an amazing price. Alibaba has many similarities with amazon, similar layout many stuff sold on Amazon are sold on Alibaba too.
Alibaba is known for its cheap price. you can find the same product for 70% percent of its price and less than that in some cases.
Many people say Alibaba's products are low quality which is not true for most cases because Alibaba doesn't sell its own product, just like amazon it is the third party sellers selling their product on Alibaba's platform so you can not judge the whole store by some sellers, but you shouldn't expect super high quality like REI.
So it is on you whether you pick the right gear or not, Alibaba has a category for camping and outdoors it has thousands of products to choose from many which are legit and worth trying.
If you are a beginner camper Alibaba would be your best bet because you can get a whole bunch of gear for a limited budget.
They have international shipping, but most sellers on Alibaba have expensive shipping prices. It can go up to a few hundred USD depending on the weight of the item you ordered and the place you want it to be shipped.
Unlike Amazon, it is hard to find big camping brands like REI, MARMOT on Alibaba, and this is because they are US-based manufacturers while Alibaba is mainly located in china, but the good news is there are hundreds of other companies out there who have specialized in the outdoor niche. You might not get the quality of REI form Alibaba but keep in mind the price difference but keep in mind how much you save.
| Pros | Cons |
| --- | --- |
| International shipping | Some low-quality products |
| Good price | Expensive shipping |
| Huge collection | |
I would give Amazon 8 out of 10.
#5. MARMOT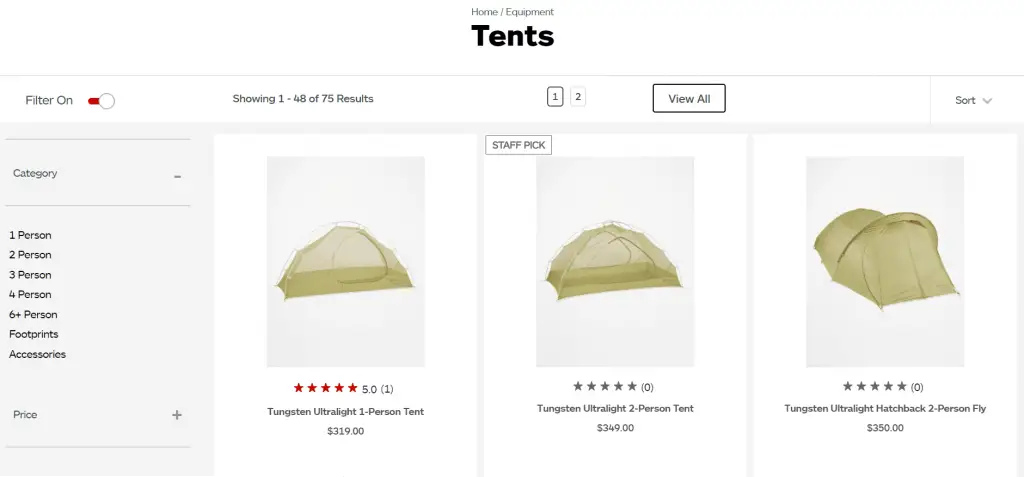 Marmot was founded in 1974, with a huge collection of camping gear marmot has ruled the market since.
Is marmot a nice place to buy camping gear? yes, it is probably the second-best place to buy gear next to REI. You can get some camping equipment like tents and sleeping but the problem is you can not find things like water filters, tarps.
How diverse is marmots collection? I wouldn't say it is as diverse as MSR's or RIE's but it is not small either. The thing is they sell things which are not related to camping like jackets so if you consider those things you can definitely say they have a very diverse collection
I would say their products are on the expensive side, high-end side most products are higher priced they also are high quality. So if you are looking for cheaper products I wouldn't recommend Marmot as well.
They have products that are on sale but it is more focused on clothings.
What about their shipping? I would say marmots shipping is decent, but it is limited to few countries. They ship most products for free if your order is more than $50USD and they also ship to most European countries and some Asian countries like china and japan. If you want to contact marmots international distributors you can check this page.
| Pros | Cons |
| --- | --- |
| Good quality products | Not very diverse |
| – | Limited shipping |
I would give Marmot 8 out of 10.
#6. EBAY
eBay is one of the top online retailers, probably the second biggest next to amazon. You can find anything you wish for on eBay at a decent price.
You also can sell some things you have and you can get extra cash if you want on eBay, which means used items on eBay too. Many people who have some gear they don't use they sell in online stores like eBay which is great if you are tight on budget.
Our question is is it a nice place to get camping gear? I would say so but I wouldn't say it is the best place but you would get many amazing deals on eBay.
Camping and hiking have one category on eBay there are hundreds of thousands of camping gear if not millions. From packrafts to backpacks, sleeping bags and stove there are many customer reviews which you can check before you buy too.
eBay has one of the most amazing shipping that I have personally tested. They have free shipping for the most part. What makes eBay different from other online sellers is that the third-party sellers are the ones that will ship your product, which means if you are going for an international seller you might have to wait for a long time but besides that everything is perfect. more info…
| pros | cons |
| --- | --- |
| International shipping | Upto one month shipping |
| Diverse choice | – |
| Great discounts | – |
I would give ebay 8.5 out of 10.
#7. Campmor
Campmor is a big outdoor retailer founded in 1978 they have a huge collection of camping gear, their collection includes a huge variety of categories which include cycling, camping to hiking and many more.
They have 90 days Guarantee, so if you don't like what you get you can always ship it back with your own expense. They have some conditions if you are looking for a refund like the tag has to be still on the product and some other things you can check this page from Campmor for more information on that.
When it comes to their price I wouldn't say they are cheap and just like amazon most of the gear they sell is not manufactured by them in other words, other brands like MSR and Marmot sell on Campmor website.
They have a sale page if you want discounted gear but most of the gear on sale are clothings, good for you if you are looking for some pants or a jacket but for camping gear you wouldn't get that much of a great deal.
When it comes to shipping they have what is considered to be good shipping time but they don't have international shipping, but if you are in Canada and the United States you can get your gear in a few days, sometimes with free shipping for more shipping information check this page.
| Pros | cons |
| --- | --- |
| Good customer support | Limited shipping |
I would give Campmor 6.5 out of 10.
How to get a discount when buying camping gear
Use the honey browser extension-* (this is not paid advertising), the honey browser extension has got popularity among online shopping, if you don't know what it is, it is an extension that you add to your browser and it helps you to get a discount. it works in thousands of stores so whether you are buying you gear from Amazon or from REI you can potentially save some cash
Signing up– Many sites offer a discount for customers who have a membership, for instance, REI has a paid membership that will help you to get discounts and some amazing offers.
Choose the right time– You should never buy camping gear when the camping season comes because that is when price goes up, what you can do instead is buy your camping gear in seasons like winter that is when you get the best deal.
Lookup the same product in different places– Looking at the same product at different places helps you to compare prices, a lot of products have different prices at different sites.
50$+ free shipping– Most outdoor recreational websites offer a free shipping if you are spending anything more than $50.