Lot's of urbanization taking place right and we need to spend some time in nature and in the wilderness, if you ask me I love to spend time alone just me or with friends in nature. And I have found that camping is an answer.
If you're reading this blog hopefully you are interested in camping and you are not an expert at it. But don't worry I have written everything I know about camping in this post just take 10 minutes to read and I bet you will know things you have not known before at least you won't be a complete beginner.
And if you are not a complete beginner and planning to camp in cold places, here you can check tips I bet you don't know tips for camping in the cold you haven't seen before.
I hope this will help you to save your money, to connect with yourself more and make you aware of the things you need when you go on your camping trip. And generally to get the best out of it.
I will be sad to tell you that if you don't like your first camping trip you might hate camping forever. So you have to make your first camping trip fun and interesting.
Table of contents
Where to go on a camping trip?
This is one of the big questions that will come to your head when you think of camping and it is one of the most important questions as well.
So where to go on a camping trip? it might be anywhere of your interest Like state parks, state forests, national parks. In my opinion, the main thing when you are camping is to stay away from technologies and human-made things as much as possible.
Most countries have camping grounds owned by the government which is sometimes free but most of the time you there will be a small payment.
State parks– Are parks or other protected areas managed at the sub-national level within those nations which use "state" as a political subdivision. Wikipedia

National parks– Is a park in use for conservation purposes. Often it is a reserve of natural, semi-natural, or developed land that a sovereign state declares or owns. Wikipedia
The biggest mistake you can make is not researching the place you are planning to go to. So gather information about the weather, the price, and check what kind of camping is possible. If you are planning a tent camping you can do that in most state parks and national parks.
So do your research to make sure the place you want to go is available and it is an advantage if the campground is not too far from your house, I mean for any reason you might need to stop or just go home so it is wise to camp near to your home.
Is lightning a threat for you when you are camping and is it true that tents attract lightning and is lighting-proof tent real?
So how much to expect, how much money do we need for a camping trip? I mean putting all the essentials aside, state parks and national parks will charge you around $15 to $50 per day. But this is only for the campground there are many necessities you will need. Which I will come on a moment.
Most of the money you will need for camping is for your camping gear. your camping gear will decide if your trip is going to be fun. So you have to choose carefully what you're taking with you. I think a getting boring so we are going to talk about that but first let us see tips and hacks for camping.
Essential and brilliant hacks for first time campers
Types of camping
Tent camping
The first thing that comes to mind when you think of camping is a tent and it is the most common shelter used when camping. So how I define tent camping, tent camping is nothing but camping with a tent as a shelter actually it doesn't need a definition because everyone knows what tent camping is.
You need many camping gears for tent camping from a sleeping bag to a footprint and many other things, so depending on the quality and the quantity of your camping gear you might need good cash I mean it can go up to thousands of dollars.
The good thing most of the gear you buy for tent camping you can use them for years unlike other camping like RV camping which you have to rent it for a day and you have to pay every time you want to camp, I mean if you don't buy an RV which is super expensive.
RV camping
RV(recreational vehicle) is like a home with a motor in it, you can drive from place to place using it. And you can use it as a house for living at the same time.
If you are planning to purchase RV I know it's a big investment, so be careful of what you're going to get.
You have to choose and that is diesel and gas. Diesel RVs are a little more expensive than the gas ones. But as you know diesel cars consume less and so you save a little money off it. While gas cars are more easy to fix so if your car stops in the middle of nowhere you can easily find a mechanic.
Packing on RV is a little different from packing from a tent camping. You don't need a tent, sleeping bag and the things you normally need for camping. Because most of the things are already built in the car. Most RVs contain bed, stove, tables, chairs and you will have your own shower and toilet which make your camping trip more fun.
Are RVs expensive? if you don't own RV and you are planning to buy one you need good cash, depending on your needs it might go up to $150,000. But you can get used RV for just several thousand dollars.
Where to go with RV, most national parks allow RV camping so whether it Grand canyon on Yellowstone national park you will find a good place to camp your RV. And many national parks you can reserve a spot for you RV but most of the time you don't need to, you will find a space.
Camping ground sometime differs if you are with RV. RV camping grounds may not have toilets every here and there and that's because of RVs have toilets in them. But most of the time both tent and RV camping is at the same place.
Cabin camping
Cabin camping might be a little different, why? because it's more like your home. You have your own bathroom kitchen a good bed, so it's like a home out in the wilderness.
Cabin camping is my personal favorite, I mean it is not so different from tent camping but you are safer from harmful elements. You can cook great fresh food in your kitchen and you get a good shower and a good time in your bed.
And you don't have to even own cabin anymore there are many camping grounds with built cabins. And you can rent a cabin for a week and have a good time.
The cabin rentals are around $130 daily and you will get your every necessity. And you might even get beautiful cabins for less money so do good research.
And you can even bring family members with you to have a good time with each other, most cabin rentals 3 more people besides yourself. So bring someone with you if you want.
And your second choice is to build a cabin, you might do it as a DIY project or you can hire someone with more experience so that you can have a place to rest when you want. If you have your own cabin. You can have a stay there with no extra cost so that is a big advantage.
Building a cabin is not easy as it seems you need to have good cash and good skill if you are going to do it by yourself. I have a cabin, not mine we(as a family) have a cabin which was made in 2008 as a DIY project. And every year we go out camping in the cabin and it is so amazing and every time I found myself so connected and I love it so much.
Glamping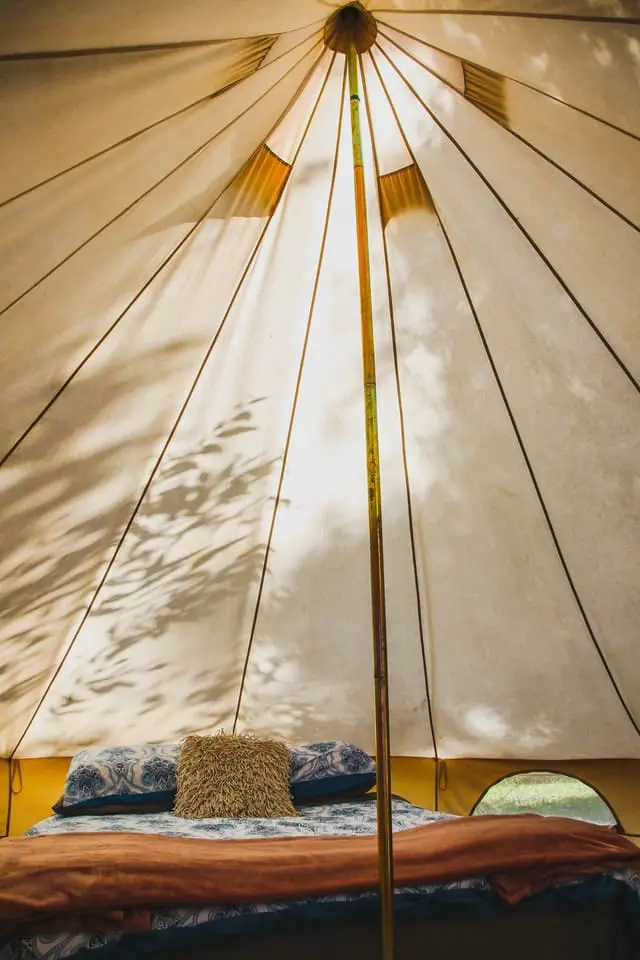 Glamping is a type of camping with amenities and just pure luxury which makes it different from other camping the name glamping came form glamorous camping and glamping has many similarities with cabin camping.
How much to expect? let us assume a three-nights stay in glamping dome depending on the time you will stay, the number of guests, and the location of the site you might pay from $55 to $400/night stay that means if you are going to stay for three days they are going to charge you from $165 to $1200.
If you want something extraordinary you can pay up to $4000 just for a night in some glamping resorts but that is not our problem.
primitive camping
Primitive camping is a different type of camping and is the exact opposite of glamping. and I can't say it is recreational it is more of a survival. this has become a trend mainly because of Bear Grylls he is a British survivalist mainly known for his TV series man vs wild.
as you might have guessed primitive camping can be very hard for beginners it needs years of experience. most of the time primitive camping is not completely primitive you have to take some important things with you like this survival kit from amazon.
camping gear
When you are planning for a camping trip there are many things you're going to need. Here I have listed things which you might need. From my experience forgetting a little thing might ruin your whole camping experience, so don't forget to brainstorm the things you might need.
I have divided the list into must get it and optional. The must are the things you're going to need the most. while the optional things you might need. I hope you will find the list helpful.
| | Tent | RV |
| --- | --- | --- |
| Sleeping bag | ✔ | ✘ |
| stove | – | – |
| backpack | ✔ | – |
| knife | ✔ | ✔ |
| compass | – | – |
| sleeping pad | ✔ | ✘ |
| tarp | – | – |
| heater | – | – |
| tool kit | ✘ | ✔ |
| cord | ✔ | ✔ |
| hammock | – | – |
| light source | ✔ | – |
| stake | ✔ | ✘ |
| cooking material | ✔ | ✔ |
| power bank | ✔ | – |
| GPS | ✔ | ✔ |
| | Cabin | primitive |
| --- | --- | --- |
| anti-bacteria | – | ✔ |
| water filter | – | ✔ |
| knife | ✔ | ✔ |
| hammock | – | ✘ |
| GPS | ✘ | ✔ |
| backpack | ✔ | – |
| matches | ✘ | – |
Gears all camper needs
First aid kit– Having a first aid kit while camping and hiking is a must. Anything might happen so it is good to be careful, you might trip, or you may bleed from something so it's wise to get a basic first aid kit. When I say basic I mean like bandages, pain and anti-inflammatory medicine, tweezers, scissors, safety pins. And optionally you can bring sunscreen, hand sanitizer, wipes and many things of your choice.
Water filter– You might be out of water while you're camping so you might need a water filter. There are water filters specifically designed for camping, you can easily fit them into your backpack. And they have a reasonable price so is good to get one for yourself.
GPS– This is a must when you go camping or hiking because you go out of track and get lost so these will help you to track your way back. You need these especially if you are going to a primitive camping or tent camping it is a must.
Phone– Your phone is very important for many things and one of them is for emergency cases anything might happen so it is also another thing that you have to have.
Tent camping essentials
Sleeping bag– It's obvious that you have to get a sleeping bag when you're planning to go out on a camping trip. Depending on the place you are going and what makes you the most comfortable you can choose any sleeping bag from Walmart or any online store. When choosing a sleeping bag you will have to check its temperature rating and some other factors like quality. The best thing when buying a sleeping bag is there are many companies to choose from so just make sure to get the best price and the best quality.
Tent– Tents are another must when camping I mean if it's not RV camping. Tents might be a little expensive depending on what you want, but there are many low priced tents the only thing you have to check is their quality because there are many cheap priced tents with very low quality. The big tip am going to give you is buy a big tent, I mean if you are alone, buy a 2 person tent, if you are 2 buy a 3 person tent and so on because of false advertising if it sold for a 4 people tent it is going to be hard to fit 4 people. So be careful about that
Camping stove– Stoves might be optional depending on what you want to eat. If you want to eat fresh food you might want a stove if you don't want to get stove you can eat dehydrated food or snacks. but it is not a secret that fresh food is healthier and tastes better than packed food so it is nice if you get on for yourself. are camping stoves expensive? depending on what you want you can get them from $45 to $300 or more.
Sleeping pad– Sleeping with just a sleeping bag might be very uncomfortable so you most likely need a sleeping pad. Sleeping pad comes with many varieties, like air-filled sleeping pads and sponge sleeping pads and so on don't get overwhelmed by the different choices the sellers will give you just pick the most suitable for you. I suggest you get air sleeping pads I found them the most comfortable and they don't need big space not to forget they have a very small weight. What about their price? not bad, you can get any air sleeping pad for under $25 and depending on the sleeping pad you want you can get them for a reasonable price, but you might get premium ones for over $150.
Light source– This not big like the others but don't underestimate the effect it will have on your camping trip daylight doesn't stay 24 hrs so you need light source at night. You might need to go to the restroom or your tent might be leaking and you need to fix it anything might happen so trust me you need some kind of light it might be a torch or a lamp. It is good to have a solar rechargeable one because you might run out of power. I don't think I need to comment on the price it depends on what you want you might get very cheap or very expensive.
Camping pillow– personally I don't sleep with pillows, but that

'

s me you most likely need a pillow. There are many models you can choose from, so what you have choose have to be lightweight, comfortable and reasonably priced. You can find camping pillows for $10 or more.
Camping chair and table– This is also not a must but I bet you will find them necessary, they will make your camping trip comfier. You can eat and play games on them and you need a place to rest.
Tarpaulin– if you don't know what they are, tarps are protective sheets which you can use as a tent and also as a cover for your tent they are usually made from stretchy materials and covered with polyester coated with polyurethane.
Tent stakes– if you have ever been to a camping trip before you know what these are if not they are tiny made from metal with a hook at the top end which is used to hold your tent in place.
RV camping essentials
Extra car battery– Imagine if your battery died while you are 10miles far from any kind of civilization it would be a complete nightmare. So it is nice if you have an extra battery.
Fire extinguisher– It is a car you are driving and so you know fire might happen which can burn the car into unusable trash and it can even start forest fire if it is not under control for a long time so it is a must that you have one.
Tire pressure monitoring– I love this technology it is a handy and inexpensive item you must-have for your RV. If you don't what a tire pressure monitoring system is, it is an electrical system designed to control the presser and gives alert when something unusual happens.
Tool kit– You might not be super handy nor am I but you have to have some kits like a screwdriver, a hammer, and some other accessories.
cabin camping essentials
food– some cabins are equipped with a cooking place and utensils and most cabin rentals provide breakfast. you have two choices: one is to cook the other is to bring ready-made foods, personally, I love cooking and I would rather eat fresh food if you are also like me take a recipe book and your recipes with you.
water filter– this is also another necessity for cabin camping some cabins do have water supply and some don't but it is wise to have a water filter.
Optional things you can take for your camping trip:
Knife– You might use it for cutting things which you often do while camping.
Cooler– It will help you to keep your food for longer which is very important if you are planning a long time stay.
Cords– Cords are multipurpose and they don't hold big space and they have infinite use from stretching your tarp to tying sticks for different purposes.
Water bucket– You might want to hold water especially if there is a good source of water in your campground you might end up using gallons of water every day but that is impossible if you don't have a bucket.
Camping fork– you need this if you are going to do a barbecue.
Hammock– You will have a good time on them and they are not expensive so why not.
Shovel– Help you to dig for your tent and might have other use.
Power banks– If you are going to have your phone with you they are very important.
Waterproof matches– You probably need this if you are camping in wet or rainy places
Books– You might get bored so they are for entertainment purposes.
Camping food(What to eat while camping)
While camping you need good food, if you don't like the food you will most likely hate the whole camping trip and that is the last thing you want. You are out there camping to have fun not to get starved.
the ideal food for camping is food which doesn't need cooking and doesn't need freezing which is hard to find but I have written a post on food to take camping which doesn't need cooking and refrigeration which you can check out.
So you have to pack good food. When I say good, I don't mean pizza, trust me it will not stay fresh. So you need good fresh food or things that will last. Here I will list thing I have eaten while camping
Eggs– As you know eggs are packed with protein. And you have a variety of ways to cook an egg. My favorite is cooking method is frying. But you can make it in different ways you can boil it you can make a french toast and any recipe will work. But eggs don't last very long so you might need a refrigerator if you are going to have a long stay.
Tuna– These are tasty and long-lasting food they are very good camping food you can take to your camping trip, this is my main dish when I camp. I just cook them a little and I eat them with bread and juice for my lunch. And most of the time I take a dozen of these, and they will last for at least a week.
Tinned foods– There are many tinned foods you can choose from it might be fruits, Pulses & beans, soups or just anything you wish to take. One thing you have to know is you have to pack them correctly otherwise you might break the seal and it might spoil, and you might get food poisoning.
Yogurt– Not long-lasting and not my favorite(I don't like yogurt) but you can take them with you and they are not easy to take if you are not cabin camping not easy to fit into a backpack, so you need a car. So while they are good for a cabin and RV camping they are not the best for tent camping.
Sandwiches– I don't have to tell you about sandwiches we eat different kinds of sandwiches in day to day life so just take pre-made hot dogs and just cook them and eat them with bread or just anything you want.
Dried fruit– You probably have heard of this. Dried fruits are fruits that have been dehydrated most of the time it's sun-dried or with some kind of man-made machines. Which will absorb the water from the fruit. But you can not eat them for lunch they are just for dessert. So you can take them and enjoy.
Nuts– Most nuts have very good health benefits. And there are very good things to take on a camping trip you might enjoy them while reading books or playing with family friends. And at the same time, you will get good health benefits.
Food poisoning while camping
Food poisoning while out in the wilderness is the least pleasant thing that could happen. So you have to be extra careful. Food poisoning is caused by some microorganisms like bacteria, virus or some parasites so you might get diarrhea or some other serious health issues if you are not careful. For more information, you can read this article about food poisoning.
What clothes to wear while camping
The first question is where are you going. Is the place is windy, rainy, hot, cold. And so depending on the place you are planning to go you will have to pack different cloth. Do good research on the place you're planning to go so that you can make good preparations.
for Hot place
For hot palaces, you most likely don't need jackets or thick sweaters all you need is a good number of t-shirts. You might get sweaty so might need to change every now and then. And for tent campers you have to check if the night is hot too otherwise you might get tricked and get high temperature rated sleeping bags and you will freeze at night.
for Cold place
While camping in the cold you have to have a good sweater, socks, thermal pants, gloves, a knit cap and some other things that will keep the cold out. And for tent campers, it is a must that you get a sleeping bag that has a temperature rating of 20°F and below. That means you can camp in places that have a temperature lower than 20°F.
for Rainy place
For rainy camping, you need many waterproof things. Waterproof tents, sleeping bags, jackets, you have to make sure you won't get wet while sleeping or even in the day. And you will like it if you get a heater so that it will make your tent more comfortable. And you can get headphones if you are disturbed by small sounds, the rain hitting your tent will make a very annoying sound so the headphones will block most of the sound.
for Windy place
For windy camping, you're going to need something tight and thick. Which will block all the air out and trap the heat which comes from our body. And if you are tent camping don't forget to get a waterproof tent and sleeping bag. Buy a sleeping bag that is rated for lower temperature which will trap the heat when you sleep.
Things to do while camping
Fishing– If you're going to a place where there is a lake or a river you have to consider getting a fishing rod, hook, bait and some other necessities and go fishing. Fishing is not easy it might take hours to catch a fish, especially if you are just a beginner. So you have to wait long to catch a fish.
Running– Good activity to make your camping more fun. Pack some shorts and running shoe that fits you the best and just run.
Playing games– If you are not alone playing games is going to be very fun. It might be board games, cards or anything that will make you happy. Just grab a game from a store and take it with you.
Hiking– Go for it! grab water grab a snack a go for a hike, it might be an intense long-distance! or just half a mile. And it will even help you to have a good sleep and it's good for health. Don't forget to buy hiking shoes if you are planning to explore the wilderness.
Reading books– I don't like reading much but if you like reading books just take one or two books with you. But you should not forget you are out there not to read books. So don't forget going out and pass time with friends and family. If you are camping alone just have time with nature.
After all, is camping fun?
Totally camping is fun it makes your mind refreshed and makes you connected to yourself and also nature. I have written a whole blog post on tips to how you can make your camping trip more fun you can check it out.